Top Armor PRO Tips
These socks are very crucial for the flow of blood from the veins pumping oxygen directly to the heart, they serve all the needs necessary for the full-on functioning of your legs for all medical purposes. Our compression socks are made up of anti-bacterial material, giving you the best levels of comfort at the same time reducing swelling, enhancing blood flow, and reducing friction at the toes.
Here are our TOP ARMOR PRO Tips to ensure maximum comfort, enjoyment, and longevity of your compression socks.
HOW TO PUT COMPRESSION SOCKS
Place arm in sock palm to heel

Grab heel with thumb like a puppet
Pull top of sock down and inside-out

Place foot in sock and pull over heel
Continue pulling up to the knee

Fold top down and back up to the knee

Smooth out wrinkles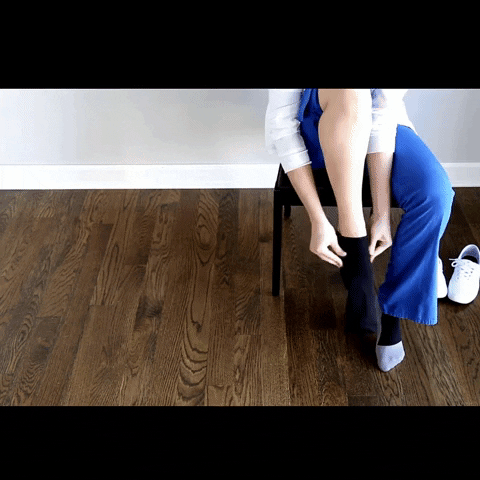 CARING FOR YOUR COMPRESSION SOCKS
Below are some suggestions on how to wash your compression socks:
- Fill a small tub or basin with cool water. Dip the stockings in the cool water, then remove. Add a mild detergent or soap to the water. Mix the water with your hand to circulate the soap. Place the stockings back in the water and let them sit for 5 to 10 minutes. Do not use hot water because the heat might damage the elastic in the compression stocking.
- After soaking, gently rub the stockings to remove dirt and oil. Squeeze them out and rinse to remove any soap. Be sure to squeeze them gently and do not pull the stockings. Pulling can result in an imperfect fit when trying to wear them again.
- Rinse stockings out until all soap is removed. When the water squeezes out clear, they are clean. Squeeze out as much water as you can, then lay the stockings flat to dry in a cool or warm place. Hang dry. Do not place near heat. Do not wring them out, as it may damage the way the compression stocking is woven.
NOTE:
 

WE SUGGEST HANG DRYING OUR SOCKS TO INCREASE THEIR LIFESPAN AND THROWING THEM IN THE DRYER (LOW HEAT) WHEN YOU WANT TO REVITALIZE THEIR SQUEEZE.